Alltech Solar - dedicated to providing top quality residential and commercial solar installations in Southern California

Clean and unpolluted
Solar energy is a source of power that is non-polluting and renewable. Solar panels have the ability of creating power without relying on fossil fuels.

Saving money while saving the planet
Solar power is good for the environment because it is non-polluting and uses a renewable energy source. Those who's homes are powered by the sun are free from electric bills and are living a more sustainable life style.

Lasting and long-term
Although it can be expensive, in most cases solar will actually pay for itself within the first few years through energy cost savings and tax incentives.
About us
Alltech Solar is committed to providing Southern California with top quality residential and commercial solar installations.
Talk to one of our solar consultants and learn more about the perks of going green with Alltech Solar.
Twenty-two years of experience, paired with old-fashioned customer service
The best warranties in the industry
Highest quality installation materials
Eliminating your electric bill
Customer satisfaction is our highest priority
With all these great benefits choosing Alltech Solar couldn't be easier. So what're you waiting for? Call us (858) 455-9292 or sign up for a free quote today and get a quick start on cleaner energy and better savings in no time.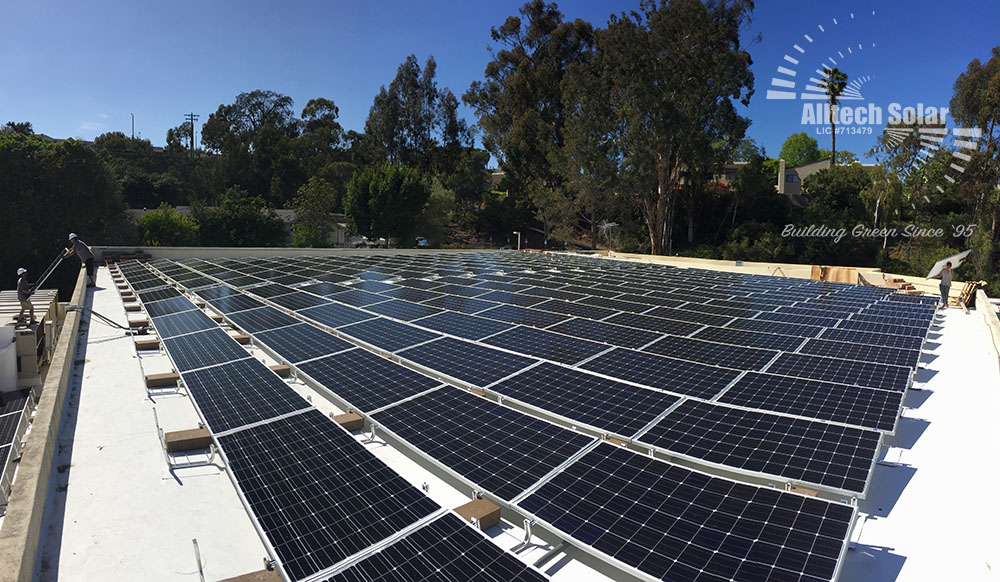 Why Choose Alltech Solar?
Testimonials
After careful thought and comparison with other contractors we decided to have Alltech install our solar panels and accomplish some other electrical work around the house: – Fan installation from a cathedral ceiling – Replacing 6″ can lights with 4″ lights in our kitchen dining room – Replacing PVC electrical conduit with metal conduit in…
Fred and Chase are absolutely the best.  Not only are they competent savvy and responsive – they are really wonderful human beings.  Our solar contractor (not Alltech) bailed on us, and we had issues with our system.  Literally months of hassles… then Fred and Chase came in and did what they said they would do,…
Alltech is the best.  They are in solar for all the right reasons – committed to customer service, the environment and impeccability.  They are responsive and do top notch work.
Alltech Solar was highly recommend from a friend that also used them for a solar PV system.  I met with six solar companies, and I felt Alltech Solar San Diego was the best choice for us.  Their price for the solar panels, converter and upgraded service panel was very competitive. I also appreciated Chase's no…